Sandra Romaniuk, MSW, RSW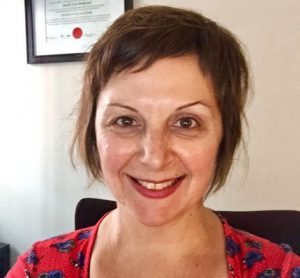 Sandra Romaniuk, MSW, RSW is a Master's level clinical Social Worker and a member of the Ontario College of Social Workers and Social Service Workers, and the Ontario Association of Social Workers.
Sandra has her Master's degree in Social Work as well as a Social Work certificate from McGill University. Prior to studying Social Work, she also obtained an undergraduate degree in psychology from Concordia University.
Sandra has over twenty years of experience working in the mental health field. She began her career doing community-based crisis intervention at Tracom crisis centre in Montreal, which provided a solid foundation for working with adults of various ages from diverse backgrounds who were experiencing a wide range of situational challenges and mental health difficulties. Following this, Sandra worked in a hospital-based setting at the Mental Health clinic of the Colchester Regional Hospital in Truro, Nova Scotia. She was initially in the role of team leader for the crisis team there, then during her final year she worked as a clinical therapist with adults who were referred to the mental health clinic. Sandra then gained experience working with children, youth, and families doing community-based social work through local CLSCs in the Gatineau Valley in Quebec. Most recently, Sandra has been working as a mental health counsellor with the University of Ottawa Health Services (UOHS) since 2015, providing short-term therapy to youth and adults, and facilitating group workshops. She continues to work part-time at UOHS while beginning her private practice.
Sandra's therapeutic approach is best described as integrative and intuitive, starting with a compassionate stance and developing a relationship with the person in front of her as the foundation for healing and growth. Her work is client-centered, informed by humanistic psychology, while she also uses solution-focussed and narrative techniques as well as cognitive-behavioural strategies as needed along the way, according to what seems most suitable with each individual to help them cope with their situation. Sandra also has experience with mindfulness practices and sees great value in their integration when it comes to helping people improve their well-being and gain more balance in life.
At Turning Corners, Sandra offers individual services in English and French to youth (starting at age 16) and adults of all ages. In terms of presenting issues, her focus includes:
mental health (anxiety, depression, trauma)

life stressors and transitions (related to school, work, family, etc.)

relationship problems

loss & grief

existential issues